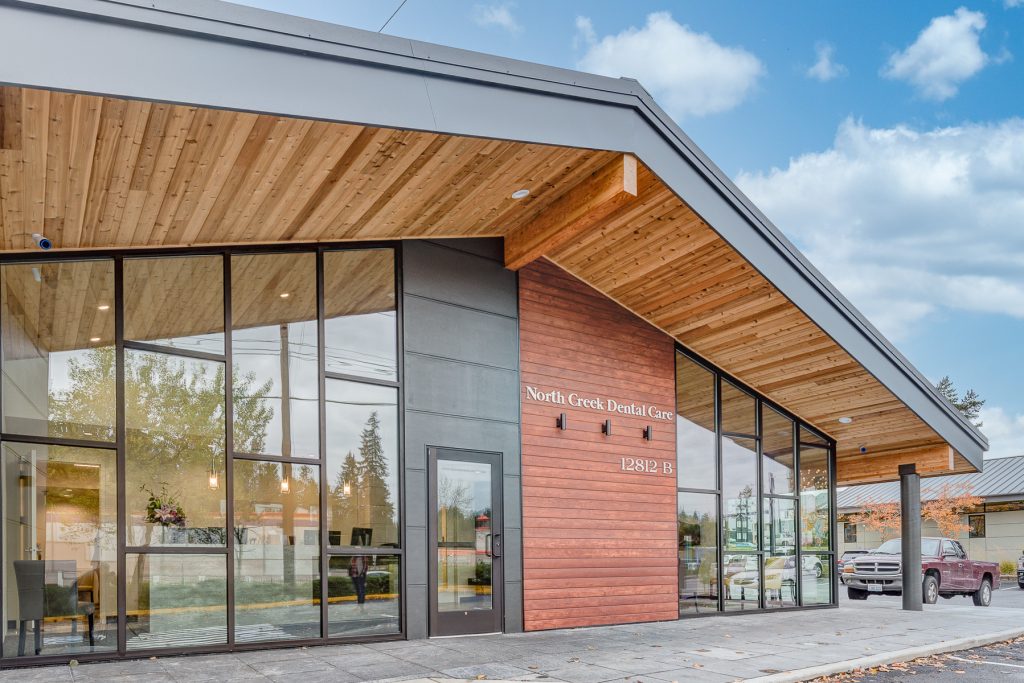 "As you grow larger, you must grow smaller" is a saying to help successful organizations stay focused on what matters most: Excellent treatment of people. As you grow in the number of clients, size, and space, you don't want to lose the personal nature of your business. Every successful small business knows this, but not all larger businesses do. North Creek Dental Care (NCDC) is growing larger while staying smaller…all at the same time.
A Quick History
The year was 1992 when a young, up-and-coming dentist began working at North Creek Dental Care handling the patient load in the north end of the Puget Sound. Dr. Don Koontz, DDS, was working with an established practice he would purchase four years later in 1996. Twenty-nine years later he is still practicing on the same plot of land, but in a brand new space (the third for this practice). The question is, "Why?"
When Dr. Koontz began working at the clinic, Everett's population was roughly 70,000 people. In 2020, Everett has grown to 111,000 people according to US Census data. Expansion into multiple sites would certainly be an option. Having an expanded space, though, is about providing you the best of care without losing the personal touch.
Benefits of Larger Practices
The first expansion in 2010 was dramatic as it replaced a double-wide modular facility. This allowed the practice to grow from one front-desk worker, one hygienist, two dental assistants, and one dentist to five operatories, two dentists, multiple hygienists, dental assistants, and front office staff.
The larger staff brought with it a wider-variety of specialties, modernized equipment, and benefits many people don't realize. In a small practice, if your dental practitioners have an unexpected emergency, it's likely you'll have to reschedule with someone you don't know at a place you've never been. As a matter of fact, referring patients out is a common practice of smaller clinics. This can create uncertainty for patients and practitioners as well.
A larger space with more qualified workers helped move North Creek Dental Care towards the dream of providing the skills and availability of a larger practice with the personal touch of a smaller shop.
The 2020 Expansion
The newest expansion of North Creek Dental Care features new, safe, and cleaner air handling and sanitization equipment. This comes at a time when it's critically important for your health (due to Covid-19). However, it goes far beyond that.
The new space expands operatories (the rooms where you receive excellent care) from five to eleven. This will allow NCDC to have multiple dentists on staff, five hygienists, five dental assistants, and support staff to help you:
Make a convenient appointment
Interface for you with your insurance
Communicate about scheduled appointments
Respond quickly to any emergency needs

"Patient experience is key to our vision," states Dr. Don Koontz. "We view our role as a household's clinic for life. We want to educate. Answer questions. Help you understand preventative care. Keep your costs down by keeping up recommended check-ups and treatment plans."
He goes on, "Our vision is to provide a cornerstone practice people in this region can look to and say, 'They've been providing the best-of-care for decades….You can depend on them."
A Community Neighbor
The team at NCDC cares for this community. Every year they participate in Dentistry from the Heart, make efforts to serve at the Lahai Clinic (non-profit clinic for the uninsured), and have even cleaned up an abandoned homeless encampment in the area.
"I love this area. Our extended family lives here. This is the region we've chosen to live in. It's more than a business opportunity for us, it's about being a vital part of a healthy community," said Koontz.
Speaking of the recent expansion, Koontz went on to say, "It's tough when you have to refer a patient somewhere else. Not because others can't provide the skills, but because they're your patient. You've worked with them sometimes for years if not decades and– as a provider – you want to walk with them through all of the needed treatment. This expansion will allow us to bring in more dentists, specialists, quality staff…all in an effort to enhance the patient experience."
2021 and Beyond
NCDC is positioned for 2021. "As our community continues to deal with the uncertainty of Covid-19, we're going to be here treating patients and helping our community," expresses Koontz.

As a business NCDC is a vital part of the North Puget Sound economy. As a dental practice, they bring the best of quality care to a region experiencing consistent growth. As people, the NCDC team will continue creating healthy smiles in a caring environment.